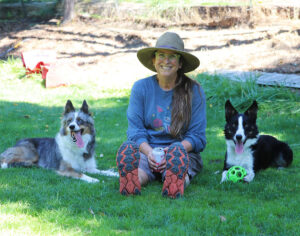 Laura's background is almost 40 years as a professional hunter jumper trainer in the Santa Cruz, California equestrian world. Twenty years ago, she discovered dog agility and has not looked back since. She has been competing now for 20 years and teaching for 10. While she misses her amazing agility and riding students in Santa Cruz, she is looking forward to helping many more students in Central Oregon along their agility journeys.
Laura is a fierce competitor in the agility world, but she also loves teaching all levels and types of students. She is happy helping everyone from first-time dog owners who are ready to develop a new training relationship doing dog sports for the first time, to experienced, competitive handlers wanting to up their training and handling games.
Laura has lived with a huge range of dogs, from her famous "Team Small Dog" rescue team of little side-of-the-road mystery mixes to her amazing border collies Banksy and Bader. Every single dog she has owned has taught her something as has every student dog. A lifetime of training horses has brought to the table ingrained patience with humans and animals alike, small steps in training, as well as some fun things that training hunters and jumpers have in common with teaching dogs to jump.
Laura currently lives with her husband and border collies in Bend and loves the beautiful open spaces of Central Oregon.